I see that TCM is showing Kiss of Death tonight at 8:00 PM, and that I've never done a full post on the movie. Time to correct that oversight.

Kiss of Death is generally remembered for being the movie that sees the screen debut of Richard Widmark, and made him a star. But more on that later, since he doesn't get top billing. The starring role goes to Victor Mature, who plays small time hood Nick Bianco. Nick is part of a gang of thieves who gets caught in a jewelry store heist while the others escape. When he gets sent to prison, the DA (Brian Donlevy) offers him time off in exchange for giving the authorities information on various crimes. In part because he shares a cell with Tommy Udo (the aforementioned Widmark), who has a hatred for "stoolies", Nick refuses to do so. That is, until he learns that his wife has committed suicide, and his two daughters have been put in an orphanage. Nick, wanting to be the one to raise his kids, relents, decides to name names in order to gain his release, and make right by his children. He gets let out, gets remarried (to Colleen Gray), and tries to live on the straight and narrow -- until he finds that the information he's given, on Udo, isn't enough to convict him.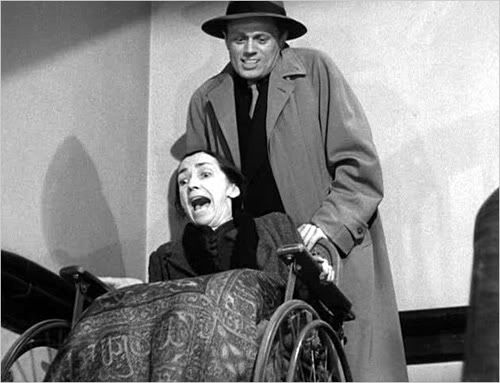 Nick fears Tommy, and is right to do so. Tommy quickly begins looking for Nick, and will seemingly let nothing get in his way. Udo isn't just menacing, he's downright sadistic. In what is probably the most famous scene in the movie, Udo goes to the apartment of the wheelchair-bound mother of a fellow gangster (the mother is played by Mildred Dunnock). He wants information, and when she refuses, Tommy takes the poor old lady, ties her up, and pushes the wheelchair down a flight of stairs in order to kill her. Not only that, but Udo has a sinister giggle that quickly became the stuff of parody. Richard Widmark is just that good here. The role earned him an Oscar nomination for Best Supporting Actor, but he had the bad luck of being up against Edmund Gwenn playing Santa Claus in Miracle on 34th Street. Widmark never got another nomination.

Despite stealing the show, Widmark isn't the only reason to watch Kiss of Death. The plot isn't a bad one, and Victor Mature does a pretty good job as well. Watch also for a youngish Karl Malden in one of his earlier roles, playing a police sergeant. (Thankfully with that nose of his, you can't miss him.) I've mentioned in the past that Fox released a lot of its noirs to DVD, and this is one of them.