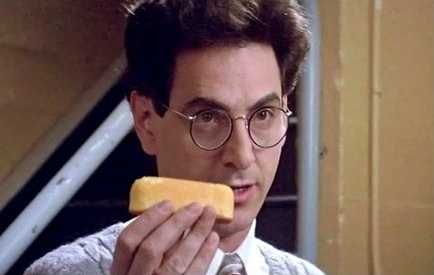 Harold Ramis in Ghostbusters (1984)

The death was announced of writer/actor/director Harold Ramis, who died overnight at the age of 69. I think I would list Ramis first as a writer, because his writing credits seem to outclass his acting credits by a bit, with the directing credits being a bit further behind. But any way you look at it, Ramis was a multitalented contributor to some of the best-remembered comedies of the 1980s.

Actually, Ramis started in the 1970s, on stage and TV as part of the Second City troupe in Chicago. He met John Belushi in Chicago, which led to their collaboration in Animal House, which starred Belushi and which Ramis co-wrote. Ramis then went on to co-write the Bill Murray vehicle Caddyshack, followed by Stripes, in which he also acted. Perhaps he'll be best remembered for Ghostbusters, which he co-wrote, and in which he had a bigger role.

Further writing credits include the Rodney Dangerfield film Back to School, while he would go on to direct Groundhog Day which once again starred Bill Murray. That, and sequels to several of his well-known movies which weren't quite as well received as the originals, although he's not the first person that happened to.

I have to admit to not having watched any of those movies in years, which is part of the reason I'm not very well-placed to write a suitable tribut post, which probably ought to have consisted of a full-length post about one of his movies.