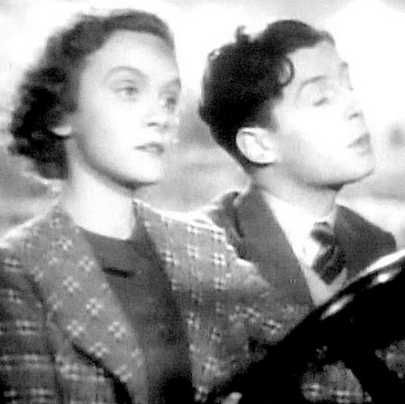 Nova Pilbeam and Derrick De Marney in Young and Innocent (1937)

British actress Nova Pilbeam passed away a week ago at the age of 95. However, she led a fairly private life after leaving acting, so her obituary didn't get posted until the 21st, and I didn't see it until the evening of the 23d, hence this late obituary post. Pilbeam is probably best known for her roles in two of Alfred Hitchcock's British films: the original version of The Man Who Knew Too Much, in which Pilbeam played the kidnapped daughter; and Young and Innocent, in which an all grown up Pilbeam helps wrongly accused Derrick De Marney prove his innocence.

I didn't realize until reading the Independent obituary that Hitchcock wanted Pilbeam for Rebecca when he was going to go to Hollywood. But Pilbeam decided she didn't want to be tied down to an exclusive Hollywood contract, and that was that. Marriage, widowhood, a second marriage, and motherhood followed, and Pilbeam opted for the private life rather than remaining an actress.