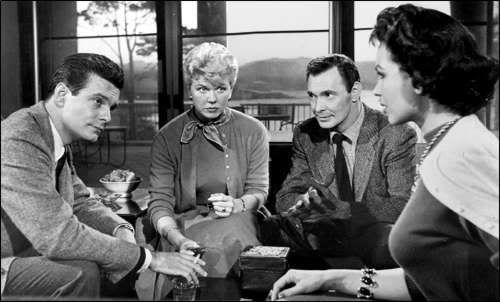 Today marks the first of five nights for TCM's Star of the Month for April 2012, Doris Day (second from left in the photo above, from the film Julie, but you could probably have figured that out yourself). Most of the time, that would mean each of the five Mondays in April in prime time, but this month, TCM is doing something different, which is to have Doris Day's movies every nihgt in prime time this week, extending into the early morning of the next day in some cases; the last film in "tonight's" lineup is Starlift which actually airs at 8:00 AM tomorrow. Presumably this would be because she's turning 90 on April 3. For those who aren't fans of Doris Day, I'm sorry; but this might not be a bad opportunity to catch up on any backlog of taped films you might have -- don't we all have that?

This wouldn't be the first time TCM has done something different regarding its Star of the Month. Some people made enough films that TCM could spend 24 hours a day for each of the "nights" of the tribute; I believe Humphrey Bogart and Mickey Rooney both got that in December 2009 and 2010. Frank Sinatra, on the other hand, got two nights a week in prime time when he was the Star of the Month in May 2008 on the 10th anniversary of his death; that spotlight did include a couple of TV speacials, however. And in May 2007, TCM marked two centenaries with Stars of the Month tributes: Katharine Hepburn and John Wayne. Like Doris Day, both of them recieved a full week of the prime-time spotlight in the week that corresponded to their 100th birthdays. (Thankfully they weren't born in the same week.)

As for Julie, it's not airing until 1:30 AM Thursday. I only used the photo beause it's the one Doris Day photo I've used in the past to illustrate a film and I didn't feel like looking for a new one right now.