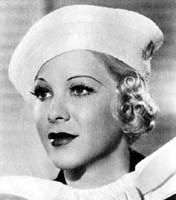 I've briefly mentioned the Torchy Blane movie series before when talking about the star of several of the movies in the series, Glenda Farrell. Torchy is a lady crime reporter who uses her moxie, as well as the connections from her police detective, to solve crimes before the police themselves can solve them. The movies were conceived as a B series, as a lot of those movie series were back in the 1930s and 1940s. This means that they're formulaic and low-budget, but often enjoyable to watch. In the case of the Torchy Blane movies, that's down in no small part to Glenda Farrell herself, whose roles always seem to be full of energy.

Anyhow, I'm bringing up Torchy because the first of the Torchy Blane movies, Smart Blonde is airing tomorrow at noon on TCM. Now that the Saint movies have ended, it's time for a new series, and TCM will be showing four of the Torchy movies starring Farrell Saturdays through Jnauary 19th. Glenda was replaced by Lola Lane in Torchy Blane in Panama, which will air on the 26th. Farrell returned for one final Torchy movie, Torchy Runs for Mayor, but I'm not certain whether that will be airing after the five-week break for 31 Days of Oscar.

As for Smart Blonde, the plot involves Torchy investigating the murder of an honest nightclub owner in a town where all the other nigchtclub owners are part of the underworld and have a motive for killing him. Barton MacLane plays Steve the boyfriend, while Tom Kennedy plays a flatfoot cop on the beat who is friendly to Torchy. As I said, not much to the plot, but the movie is still fun.