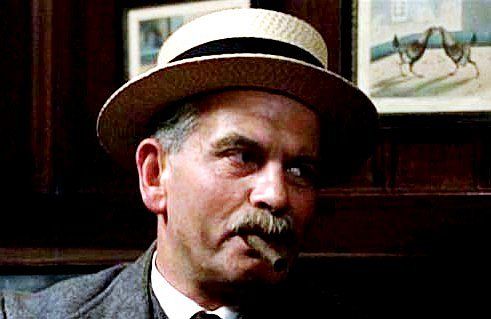 Sir Ian Holm in Chariots of Fire (1981)

Today marks the 82 birthday of actor Ian Holm. Recently, Holm has been playing Bilbo Baggins, first in the Lord of the Rings movies, and now in the Hobbit , where he plays old Bilbo. But there's so much more to Holm's career. Holm started off on the stage doing many Shakespearean roles, as well as winning a Tony award for the play The Homecoming, before starting to make movies in the late 1960s. Holm would in fact later do a movie version of his Tony award-winning role in The Homecoming.

Of Holm's movies, I've recommended Juggernaut before, although I have to admit I don't particularly remember his contribution to the movie. A more substantial role is in 1981's Chariots of Fire, in which Holm plays Sam Mussabini, the trainer hired by Harold Abrahams (Ben Cross); it's that role which is pictured above. Holm was nominated for a Best Supporting Actor Oscar, although he didn't win.

Another relatively prominent film to which Holm provided his talents is Nicholas and Alexandra, about the last Emperor of Russia, Nicholas II, his wife Alexandra, and their family as they're exiled beyond the Urals before their eventual execution. It's one of those movies where I saw the second half on Cinémoi while it was briefly on the air, and always wanted to get around to watching the whole thing but never did.

Holm is the star of The Sweet Hereafter, a 1997 movie about a school bus crash in a small rural Canadian town. Here, Holm plays a lawyer bent on suing somebody, since there has to be somebody at fault. Also, this way he can atone for how badly he screwed up his relationship with his daughter. The Sweet Hereafter is a movie I first saw on IFC, back when it had no commercials and when it actually aired independent films. Time marches on, I suppose.