I only noticed over the weekend that actress Diane Cilento died about a week ago at the age of 78. Born in Australia, she'd probably be remembered by American audiences for one role, that of the schoolteacher in the original 1973 version of The Wicker Man.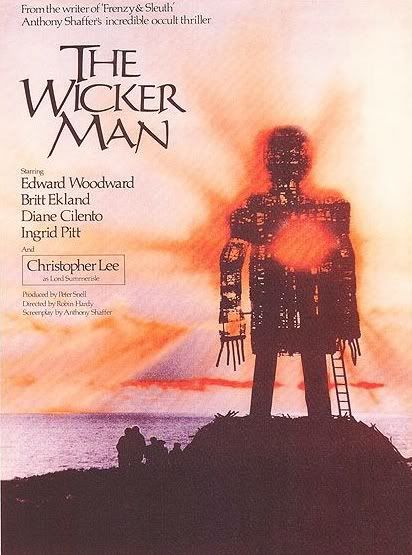 Edward Woodward stars as Sgt. Howie, a British police detective sent to a remote island off the coast of Scotland to investigate the disappearance of an adolescent girl. When he gets to the island, he finds that everybody claims they know nothing about the girl. Not only that, but they all tell him he should just leave the island and leave them alone. Because of that, it's quite obvious that everybody is lying and part of some conspiracy. The lie is only more obvious when at the local pub, he sees photos from the harvest festival -- except that the space for the previous year's festival is conspicuously empty. But why? Obviously, Howie has to investigate, and what he finds quickly disturbs him.

Howie is a devout Christian, and the people here are part of some bizarre-to-him pagan belief. Not only that, but they believe in some sort of strange fertility ritual that includes penis worship and lots of female nudity. (This female nudity is quite clearly shown in the movie, which in one of the many things making this a movie that's not suitable for children.) Needless to say, Howie is not particularly happy with what he sees, and he approaches the Summerisle, the lord of the manor (Christopher Lee), who is just about as evasive as the locals who are his tenant farmres. If anything, he and his ancestors are the ones responsible for the islanders' taking up paganism. This only fills Howie with a sense that there's something sinister going on. That sense is made more complete when he finds the missing photo from the harvest festival, which includes a picture of the missing girl -- but no produce. The implications of that eventually dawn on Howie as the movie winds its way to its stunning climax.

The Wicker Man is one of the more disturbing movies you'll ever see, even though it has rather less violence than a lot of other movies out there. But it's also one of the better horror movies you can watch, at least if you can call it horror. It sort of straddles genres, as it's part mystery and part thriller too. It's a movie I'd highly recommend in this Halloween season.