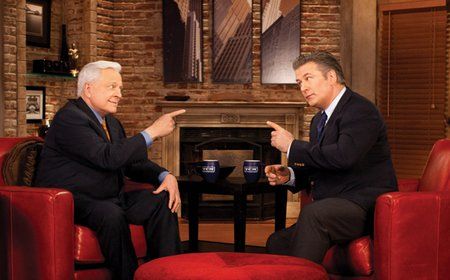 Robert Osborne and Alec Baldwin when they were younger

You've probably seen the promos. Robert Osborne does Private Screenings interviews on an irregular basis with various grand old names of the screen. This time, however, the interview is going to be different, as Osborne is going to be the one getting interviewed, by former Essentials co-host and good TCM friend Alec Baldwin, who, we assume, acted reasonably sanely when he interviewed Osborne. Anyhow, tonight is the night for that interview. As if often the case with TCM original productions, it's going to air twice, first at 8:00 PM for the folks on the east coast, and then following a feature film, at 11:30 PM for the benefit of TCM's viewers out west. Note that where most Private Screenings interviews fit in a one-hour time slot, this one is listed as running 74 minutes, so it needs a 90-minute time slot.

TCM's online lists tonight's prime-time theme as "Robert Osborne", which I'd guess means the feature movies are actually a night of Bob's Picks as we get every month:
The Third Man at 9:30 PM, in which Joseph Cotten learns the disturbing truth about what his friend Orson Welles has been doing in Vienna;
Libeled Lady at 1:00 AM, which as I mentioned a few days ago when blogging about Design for Scandal is much better;
Soldier Joseph Cotten falls in love with amnesia patient Jennifer Jones in Love Letters at 3:00 AM; and
Fred Astaire dances with Cyd Charisse in The Band Wagon at 5:00 AM.