TCM is reairing Peepshow Pioneers, the first part of its seven-part Moguls and Movie Stars documentary, tonight at 10:00 PM ET. If you missed it on Monday, it's well worth watching. Granted, there was quite a bit that I already knew, but some of the stuff, such as the magic lantern shows, was new to me. They probably could have stood to spend a bit more time on Alice Guy-Blaché as well.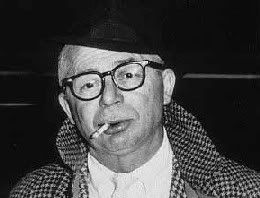 Last night, Jeopardy! had a category on "Best Director Oscar winners of the 1960s". Unsurprisingly, the contestants flailed miserably, only knowing who directed The Graduate. It is, of course, the sort of material that would have been right up my alley, although I'll admit I was surprised the category even made it to the game. It seems as though when they have movie categories any more, al the material is on fairly recent movies; certainly those made after I was born (1972).

I got a comment!. I should probably apologize for not pointing out that Five Million Years to Earth is one of the Quatermass movies. I have to admit that sci-fi isn't my greatest area of expertise, and I had only seen the movie the previous time it aired on TCM, having missed the beginning of it. It's just that the ending of the movie is so ludicrous that it makes the movie a fun disaster.