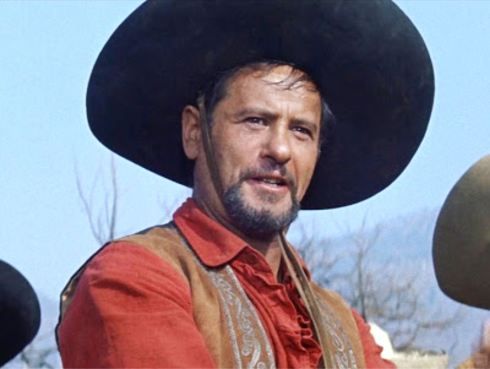 Eli Wallach in The Magnificent Seven (1960)

Veteran actor Eli Wallach has died at the age of 98, it has been announced. Wallach had a long career on stage, TV, and film. Perhaps his most famous roles were westerns: one as the bandit defeated by The Magnificent Seven, and the other in Sergio Leone's spaghetti western The Good, the Bad, and the Ugly.

Wallach's career, however, was much more varied with that. He appeared on stage in a wide range of plays quite often with his wife of 66 years, Anne Jackson, as well as numerous TV roles. There were also a lot of different movies, from his first, the Tennessee Williams melodrama Baby Doll, to bad comedy like Kisses For My President, in which he plays a Latin American leader visiting Washington to conclude an arms deal with President Polly Bergen, only to get waylaid by First Gentleman Fred MacMurray.

Wallach appeared on TCM a few years ago, I think as a Guest Programmer, and told a funny anecdote about Baby Doll. In that movie, he played opposite Karl Malden. One day his wife sat down to watch either the day's rushes or a preview of the completed film, I forget which. Eli said that his wife's succinct response was, "Never before have two noses filled the screen so completely!" I'd guess there's going to be a TCM programming tribute sometime, but TCM's website doesn't mentino anything yet. I also haven't seen TCM at all to see if they're already running a "TCM Remembers" piece.

Wallach was never nominated for an Oscar, but received an honorary award for lifetime achievement in 2010.