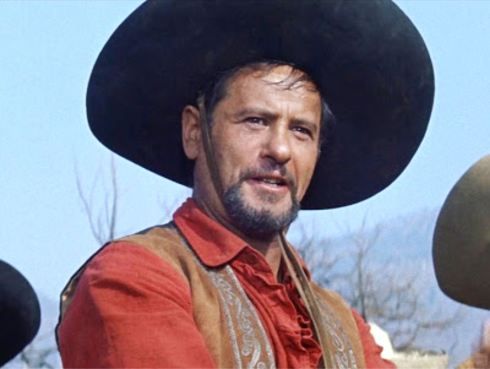 Eli Wallach died last week, and TCM have been quite quick in coming up with a programming tribute to him. Tomorrow morning and afternoon, starting at 9:00 AM and going to the start of prime time, TCM will be showing five movies in which Wallach appears. Apparently, they don't have the rights to either The Magnificent Seven or The Good, the Bad, and the Ugly at the current time, since neither of them shows up in the schedule, much to the consternation of those who like to whine and shriek about the poor choices made by the TCM programmers for obituary or Summer Under the Stars programming choices.

Wallach's tribute begins at 9:00 AM with Kisses For My President, in which he plays Valdez, a South American dictator trying to conclude a military deal with the USA's first female president (Polly Bergen); to give the First Gentleman (Fred MacMurray) something to do, she has him go around with Valdez, getting into all sorts of trouble. It's a pretty poor movie but it's not really Wallach's fault.

That's followed at 11:00 AM by Act One, a movie about the New York theater world of the 1930s and the attempt to break into that world as a playwright.

A whole bunch of stars, including Wallach, tell the story of How the West Was Won, at 1:00 PM. This one was originally filmed in Cinerama, and I believe the last few times TCM has run it it's been in the "smilebox" format that's designed to imitate the fact that in a Cinerama theater, the center of the screen would be a bit farther away from the viewer than the sides. Smilebox, however, winds up looking phony.

The Misfits (3:45 PM) was the last film for both Clark Gable and Marilyn Monroe, and deals with a bunch of misfits out in Nevada who go off to the middle of nowhere to try to make a few dollars by roping a bunch of wild horses that will be turned into dog food.

Finally, at 6:00 PM, there's Baby Doll in which Wallach plays a man from out of town getting into the cotton business in Mississipi, which is how he meets Karl Malden and his young bride Carroll Baker. If you like overheated Tennessee Williams stuff, you'll love Baby Doll.