FXM has been running Modesty Blaise quite a bit recently. You've got another chance to catch it tomorrow morning at 3:30 AM.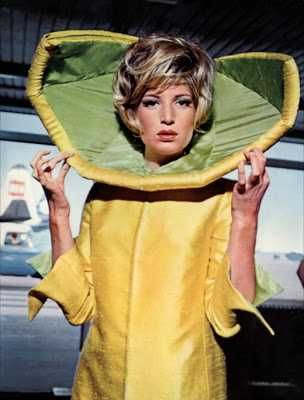 Monica Vitti plays the title character, a super-spy originally in a series of comic books. That's her on the left; that's one nutty outfit. But being a spy, Modesty goes through a series of 1960s outfits and hairdos. She's got a partner in the form of Willie (Terence Stamp) who helps her solve the crimes and keep the world safe from evil. In this movie, the evil involves Gabriel (Dirk Bogarde), who's smuggling diamonds for oil or something. The plot seems to be secondary to the stylized action, which is something that made the movie difficult for me to watch. Gabriel has a henchwoman in Mrs. Fothergill (Rossella Falk), who trains the underlings at that Mediteranean island hideout.




As you can see, there's quite a bit of style going on here. Look at that wine glass, which yes, is on a ridiculously long stem. There's a scene in which Gabriel and his accountant are both served drinks in such glasses, with the drinks being ridiculously colored. I didn't care for the movie, but it sure is interesting to look at. In addition to all that 60s style and fashion, there are a lot of locations which are as they were back in the 60s. Then again, I've mentioned before that I always find it interesting to watch the set and art design of contemporary movies looking at things as they presumably really were back in the day, especially the 1960s. Look, for example, at the lighting fixtures in Point Blank, as Lee Marvin walks through the airport terminal:




There's also that roadside snack bar in In the Heat of the Night, with its dim fluorescent lights. Looking at such stuff shows how much more prosperous we as a society are today, but damn if there aren't a lot of interesting visuals in those 1960s films. By the same token, I studied Russian in St. Petersburg back in 1992, just after the fall of the Soviet Union. Somewhere along the way the faculty of the section we studied at gave each of us a set of photos designed for sale to tourists that wsa an obvious holdover from the Soviet days. The photos of the main drag, Nevsky Prospekt, are interesting, with its dim neon signs advertising a bunch of understocked stores each selling a different item. Poor as hell, and not nearly as garish as the Times Square we can see in 50s color movies, but it's still visually interesting. I'll have to see if I can scan it sometime.