Today marks the birth anniversary of actor Victor Moore, who made 30 or sa talkies between 1930 and 1955. I've recommended a couple of his starring performances before, with one of the two best being the Christmas movie It Happened on Fifth Avenue. In that one, Moore, pictured at left, plays a homeless man who knows enough about the life of a very wealthy man (Charlie Ruggles) that he can spend the winters in the wealthy man's New York mansion, and then go to his place down south when the rich man returns to New York in the spring. Other people, including the rich man's daughter, start showing up unexpectedly at the mansion, and all sorts of fun complications ensue.

Moore actually had a career in the silents, at least for a couple of years, and there seems to be at least one that's survived intact and is available on Youtube, 1917's The Wrong Mr. Fox (NB: I haven't actually watched the video yet.)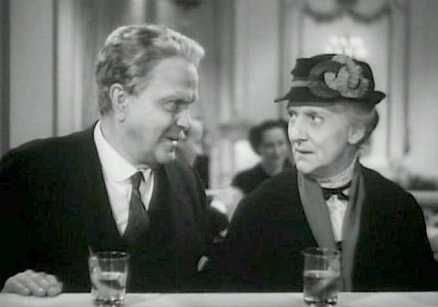 The other Victor Moore movie that's well worth a watch is Make Way For Tomorrow. Moore and Beulah Bondi (pictured at right) play a husband and wife who have been married 50 years but have to move out of their home. Unfortunately, they find that all of their children have very busy lives and none of them is able to take care of both parents, with the looming possibility that Dad is going to have to go out west for his health and Mom will have to go to an old folks' home.

Toward the end of Moore's career, he played the justice of the peace who accidentally married a bunch of couples before he was legally entitled to do so in We're Not Married!, one of those Fox anthologies that's worth a watch. I can't recall whether I've actually seen We're on the Jury before, a movie which is a remake of the earlier Edna May Oliver film Ladies of the Jury, both about a woman on a jury who just knows the defendant is actually innocent and sets out to prove it. Unlike 12 Angry Men, these movies are comedies.