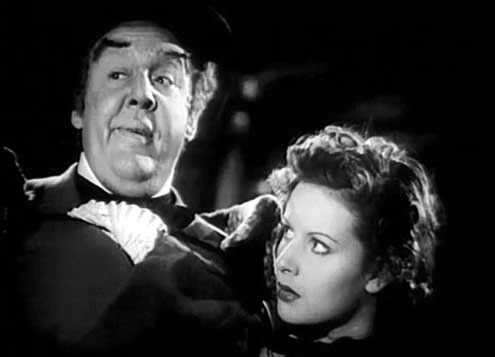 Maureen O'Hara (r.) with Charles Laughton in a scene from Jamaica Inn (1939)

Maureen O'Hara, the Irish-born actress probably most famous for playing opposit John Wayne in a series of films in the 1950s, died today at the age of 95.

O'Hara started her career in the late 1930s, opposite Charles Laughton in the underrated Jamaica Inn. This one was directed by Alfred Hitchcock as a favor to Charles Laughton who produced, and while it's not quite the style that Hitchcock had come to create starting a few years earlier with The Man Who Knew Too Much and especially The 39 Steps, it's still immensely entertaining. And young O'Hara is positively radiant on screen.

Jamaica Inn resulted in O'Hara's getting to go to Hollywood to make the 1939 version of The Hunchback of Notre Dame opposite Laughton. The two would work together yet again in This Land Is Mine.




But it's probably the work with John Wayne that will probably be best remembered. I think the best remembered of them is likely The Quiet Man, a film I don't particularly care for largely because of it's obnoxiously doe-eyed view of Ireland. They also made Rio Grande, The Wings of Eagles, McClintock!, and Big Jake together.

How Green Was My Valley and certainly Miracle on 34th Street are certainly worth mentioning, although one that I'd also like to point out having blogged about is Spencer's Mountain.

I'm sure TCM is going to be doing a programming tribute to O'Hara at some point, but I haven't heard about anything yet. As far as TCM goes, here's O'Hara doing an interview with Robert Osborne at the 2014 TCM Film Festival: