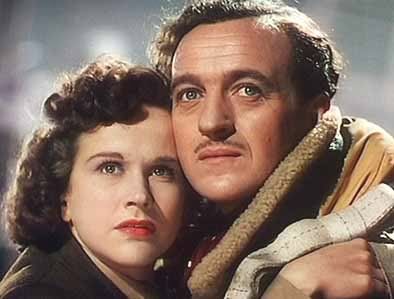 David Niven and Kim Hunter in A Matter of Life and Death (airing 8:00 PM Oct. 12)

After a slight break due to a calendar quirk, we get back to having another star of the month on TCM. This month it's British actor David Niven, who graced the screen with his suave presence for close to 40 years. Niven won a Best Actor Oscar for Separate Tables, which amazingly doesn't seem to be on the schedule. TCM must have had a rights problem. That having been said, TCM were able to get enough movies that the four nights of Niven films continue well into Tuesday mornings.

As for tonight's schedule, the highlight probably depends upon what sort of movie you like. I'm not a particularly big fan of Wuthering Heights (1:00 AM), in which Niven plays Edgar, the good but unexciting guy in Cathy's (Merle Oberon) life. Partly it's the story; partly it's the ludicrous death scene when Cathy dies, sorry for giving away the plot. But that having been said, a lot of critics and just plain old movie buffs love the movie, so a lot of you probably will, too.

More up my alley is a nice comedy like Bachelor Mother, at 9:30 PM. This one stars Ginger Rogers as the woman who has a foundling come into her life, and David Niven as her boss having to deal with the mess caused by all of this. Needless to say the two leads wind up falling in love too as the story goes along....

Niven has a small part in Dodsworth (6:15 AM tomorrow) as Capt. Lockert, although I don't remember him showing up. That only says more about the size of the part; I'm not saying IMDb is wrong. But this is another well-made drama, and one I do like a lot more than Wuthering Heights.