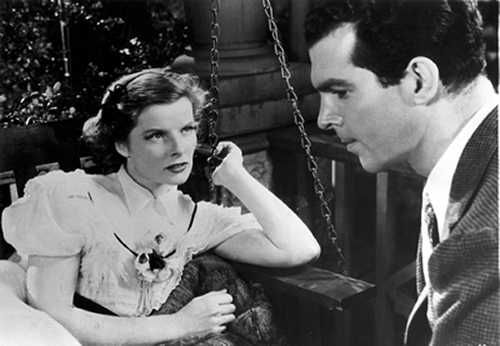 Fred MacMurray and Katharine Hepburn in Alice Adams (overnight tonight at 1:00 AM)

Now that we're in the first full week of a new month, it's time for a new Star of the Month on TCM, and this month that honor goes to Fred MacMurray. Nowadays, MacMurray is probably best remembered for playing the patriarch on My Three Sons for a dozen years on TV, but he had a darn good film career before that. I'm not certain what his single best film performance is, but my first impression is that I'd probably rate it a toss-up between playing the guy who falls for the blonde in Double Indemnity (January 13 at 8:00 PM) or perhaps the boss who is having an affair with elevator operator Shirley MacLaine in Jack Lemmon's apartment in The Apartment (January 20 at 10:15 PM).

Looking through the movies TCM is showing this month in MacMurray's honor, however, there are quite a few more good performances in there. MacMurray is definitely a supporting character to Katharine Hepburn in Alice Adams, airing overnight tonight at 1:00 AM; then again, everybody in that movie is playing second fiddle to Hepburn. I note that when it comes to MacMurray's movies, i've only mentioned the dramas so far. My Three Sons was a successful TV sitcom, but MacMurray made comic movies that were quite a bit better.

Airing tonight at 9:30 PM, for example, is Murder, He Says, which I have to admit I only saw the first half of the last time it aired on TCM. MacMurray plays a big city pollster doing a survey out in the sticks which is where he runs into a family containing Marjorie Main, Barbara Pepper, and a cast of even wackier characters. It turns out that there may be a tidy sum of money hidden on the property, and everybody is trying to get that money for themselves, to the point that they're willing to kill their own family members. (Grandma has already been poisoned and is glowing in the dark for the brief remainder of her life.) MacMurray gets in on the antics.