This being Thursday, it's time for another Thursday Movie Picks, run by the Wandering Through the Shelves blog. This week's theme is movies about prodigies and geniuses. I shouldn't have used up Running on Empty earlier, since that one would fit in well here. But I've got three other movies that fit the theme well.

First is Bobbikins (1959). The prodigy here is a kid who can talk, but only talks to his father (Max Bygraves). The kid overhears politicians talking about business deals, and uses the insider information to tell his father what stocks to buy, these being the days when stock ownership wasn't so common, especially not among people of this family's economic status. Of course, nobody believes Dad. Shirley Jones, presumably brought into this British production distributed by Fox so that there would be appeal on this side of the Atlantic, plays the baby's mother.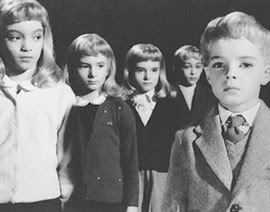 Village of the Damned (1960). I don't think the these says the prodigies have to be fully human children. Here, the children are aliens who are born of the women of a rural English village. The children evolve frighteningly quickly, to the point that anybody who questions them is in for severe punishment, as they can read minds. George Sanders plays a scientist and foster father of one of the children who thinks science should research the children, while most people think the children need to be destroyed.

Searching for Bobby Fischer (1993). This is the more or less true story of Joshua Waitzkin, who was recognized as a chess prodigy at a very young age. Joshua's father wrote the book when Joshua was 11; a time when Bobby Fischer was remembered for his brief stint as world chess champion and then becoming a crazy recluse. Fischer himself doesn't appear in the book and it's not really about the search for Bobby, but about Joshua's attempt to become the US scholastic chess champion. That, and the strains put upon a family who have a child prodigy. Ben Kingsley plays Waitzkin's coach, Bruce Pandolfini.