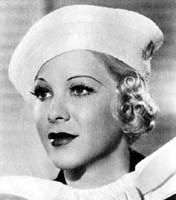 It's been five or six years since TCM last showed the movie Girl Missing. At least, I know it hasn't aired since I started this blog since it's a movie I would have wanted to recommend to all of you. It had been on the schedule once for star Glenda Farrell's birthday, but it got pulled at some point after the original monthly schedule. But, it's finally on the schedule for tomorrow afternoon (March 6) at 12:30 PM, and it's a hell of a lot of fun.

Glenda Farrell plays Kay, one of a pair of show girl/gold diggers, the other being June (played by Mary Brian). They're in ritzy Palm Beach together with their sugar daddy Kenneth, played by Warner Bros.' perpetual dirty old man of the era, Guy Kibbee. Unfortunately for the two women, Kenneth comes to realize that they don't really love him; they're just after him for his money. And so, he dumps them, sticking them with a hotel tab of about $700 in 1933 dollars. What's a showgirl to do? It turns out that they've met an old friend of theirs down in Palm Beach, Daisy (Peggy Shannon). She's also been doing some gold digging, but she's been successful, having snagged a millionaire husband (Ben Lyon). However, she goes missing on her wedding night....

This is actually an opportunity for Kay and June, as there's a reward for her safe return, and that money would pay off their hotel bill. And so begins a comic mystery. It's the sort of genre at which Farrell excelled. She would later go on to play journalist Torchy Blaine, who solved similar mysteries while delivering zesty one-liners. As in those later movies, Glenda's character seems to be the only one with any chutzpah, putting the detectives (led by Edward Ellis) to shame. And boy does she get to deliver some zesty lines. There's one when she discovers she and June have been dumped, reading a letter addressed "to the GD sisters". And later in the film, she shockingly uses the word "jailbait". Yes, I know this is 1933, which means we're still in the pre-Code era, but still it surprised me. As for the mystery, that part of the movie isn't quite as entertaining as, say, The Thin Man. But this movie is more of a second feature, and it seems almost designed to showcase Glenda, who is as always a real treat.