After taking a one-month break for the annual 31 Days of Oscar, TCM sees its Guest Programmer sit down wirh Robert Osborne to present four of his favorite films. This month, that programmer is cartoonist Jules Feiffer. Note the spelling; there's no P on the front for the Gladys Glovers of the world to call him Mr. Puh-Fifer. Feiffer's four selections are as follows: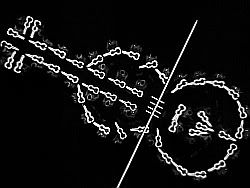 Gold Diggers of 1933 at 8:00 PM. I can imagine a cartoonist selecting a Busby Berkeley film for all those wonderful geometrical designs Berkeley used in the overhead shots of his dancers. That's followed by
My Man Godfrey at 10:00 PM. A screwball comedy seems like a reasonable selection for a cartoonist.
On the other hand, They Drive By Night, at 11:45 PM, a crime drama about the trucking business starring Humphrey Bogart and George Raft, seems like a bit of a surprise.
The last selection is This Gun For Hire overnight at 1:30 AM, in which Alan Ladd plays a gunman on the run who winds up meeting Veronica Lake, who's working for the government trying to infiltrate a group of Nazi agents. Not what you'd expect from Veronica Lake, but it's a very entertaining movie.