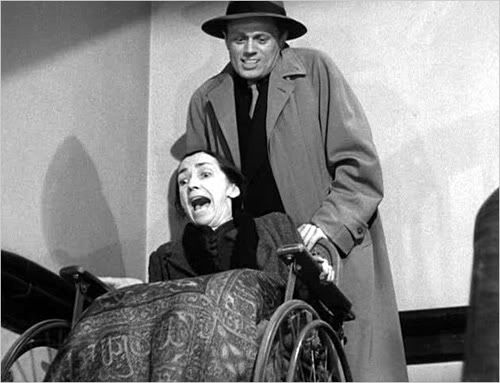 Mildred Dunnock about to go downstairs in Kiss of Death

Today marks the birth anniversary of Mildred Dunnock, who was born on this day in 1901. (As if you couldn't tell from the title of the blog post.) Dunnock started her Hollywood career a bit later in life, although that's because she spent time on the Broadway stage before doing movies, her first film being a reprise of her stage role in The Corn Is Green. Interestingly enough, according to the Internet Broadway Database, her first stage role was in the stage version of Life Begins, which also had Glenda Farrell playing what I think is the same role she would go on to play in the movie version. The stage version ran all of a week, and Dunnock's stage career didn't really pick up until The Corn Is Green premiered, which rather more successfully ran for a year and a half.

Dunnock's role in Kiss of Death, which is pictured above, may be famous, but it's also quite brief. Dunnock had more substantial roles in Death of a Salesman playing Willy Loman's wife, or The Trouble With Harry, in which she played an old spinster who winds up falling in love with Edmund Gwenn. To be honest, most if not all of her roles are supporting, but Dunnock was one of those supporting actresses who's always worth watching: the high school teacher in Peyton Place, or one of the murdered maids in What Ever Happened to Aunt Alice?, or Liz Taylor's mother in Butterfield 8.