Well, not exactly; the two play characters who are more or less friends in tonight's TCM prime time feature, Shanghai Express, at 8:00 PM ET.


Marlene Dietrich plays Shanghai Lily, a woman who's seen it all during her years spent in China. She's getting on a train to change cities and presumably leave her old life behind, but she's about to get quite a bit more than she bargained for. On the train is Dr. Harvey (Clive Brook), a doctor for the British service who is on the train to see the British consul who needs medical attention. The good doctor, however, had a thing for Lily back when Lily was not quite so disillusioned with life. However, besides trying to rekindle an old flame, the two have more to worry about. China at this time was in the midst of a civil war, and the train summarily gets stopped by one of the local warlords (Warner Oland), who wants money, but is overjoyed to find an important British official aboard his train: he can hold the man hostage as an important bargaining chip.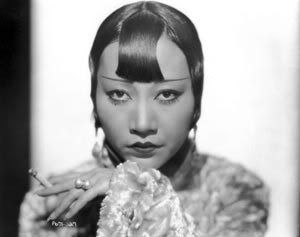 Such is the relatively simple story of Shanghai Express. As for Anna May Wong, she plays one of the train's passengers, a woman of ill repute who, like Lily, has seen it all, only from the darker side. She's a native Chinese, so she knows when the train is stopped that she's not going to have the same protection her Western friends get, which adds a level of tension to the situation. She and Dietrich are both good, and it's not really fair to bill the movie as any sort of competition between the two actresses. Plus, it's a nice benefit to have somebody who is actually of Chinese descent playing a character like the Chinese call girl, as opposed to Warner Oland in yellowface again.

Ultimately, Shanghai Express is a relatively simple story, but one that's quite well crafted, and filled with an ensemble of enjoyable performances, by people such as Eugene Pallette (playing an American passenger). Sadly, it hasn't made it to DVD, so you're going to have to watch tonight's TCM showing, or wait for it to show up again.