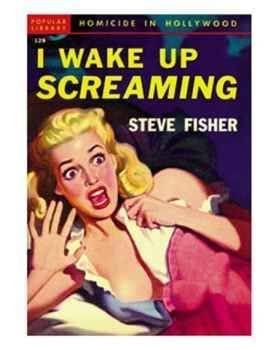 Continuing with the movies from Fox, tomorrow morning at 9:30 AM ET on the Fox Movie Channel you can watch the enjoyable early noir I Wake Up Screaming.

Like many noirs, I Wake Up Screaming is told partly in flashback. A woman has been murdered, the lovely model Vicky Lynn (Carole Landis). The prime suspect is her manager, Frankie (Victor Mature). Frankie relates how he saw Vicky working as a waitress in an all-night diner in big New York. Taken by her beauty, Frankie tells her that he's a promoter and can give her the fame that she wants. So, she takes him up on the offer, and he shows her around some of New York's fashionable night spots of the early 1940s. Vicky quickly gains fame thanks to her beauty, as well as a more lucrative career modeling and being seen. However, this also brings out the jealousy in almost everybody around Vicky: there's her big sister Jill (Betty Grable), who had been living in the city longer and took Vicky into her apartment when Vicky came east to make it big; various reporters/gossip columnist types who cover Vicky's doings (Allyn Joslyn and Robin Ray); the concierge at Vicky and Jill's apartment (Elisha Cook, Jr.), and even the police detective investigating the case (Laird Cregar). He's convinced that Frankie did it, and dammit if he's not going to prove it: he's always been right, after all. Frankie, having first person experience, is convinced he didn't do it, but can't figure out a way to get the heat off him.

I Wake Up Screaming is one of those films that it's difficult to summarize without giving away the important details. However, it's quite a fun movie, with everybody putting in good performances (Laird Cregar is particularly menacing, and Elisha Cook is creepily almost dirty), and a great dark atmosphere. A lot of the movie is set at night, offering the opportunity for dark sets and the use of shadow, while many of the daytime scenes are set during the police interrogations, which are carried out in darkened cells. Poor Frankie isn't allowed to see who's interrogating him.

If the story sounds familiar, it's because a decade later, I Wake Up Screaming was remade under the title Vicki, and that's gotten some recent screenings on FMC. Both versions have been released to DVD.