Alec Guinness in Kind Hearts and Coronets (1949)

I don't think I've done a birthday salute to Alec Guinness before. TCM won't be honoring him today, largely because they generally don't do birthday tributes on the weekend. But it's interesting to see just how broad a range of movies Alec Guinness starred in. His first role was in a British period piece, David Lean's version of Great Expectations, followed by another Dickens adaptation as Fagin in Olvier Twist. It's a far cry from the Ealing comedies like Kind Hearts and Coronets. But then, both of those are a ways away from his Oscar-winning role in Bridge on the River Kwai, in which Guinness plays the British commander of the POWs who build a bridge for Sessue Hayakawa.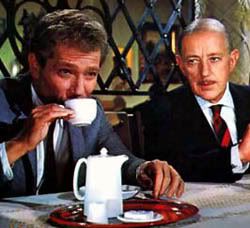 And none of them compare to the role for which younger viewers might remember Guinness, that of Obi-Wan Kenobi in the original Star Wars movies. Or an epic like Lawrence of Arabia. Or George Segal's boss in The Quiller Memorandum. (That's the photo at left.) So, whatever type of movie you like, there's probably an Alec Guinness movie in the genre for you.