Bedazzled is going to be on FXM Retro tomorrow at 4:00 AM and 11:20 AM. It doesn't seem to be available on DVD, so you're going to have to catch the rare FXM showing.

Dudley Moore plays Stanley Moon, who works as a cook at the Wimpy Bar, which isn't a bar but the sort of urban diner people went into in vintage movies to get cheap meals. Stanley flips burgers for waitress Margaret (Eleanor Bron) to serve to the patrons. Secretly, Stanley is in love with Margaret, but she has no idea of any of this, as Stanley is too timid to approach Margaret and tell her how he really feels about her. As a result, Stanley feels trapped in a dead-end life.

Feeling that his life is at that dead end, Stanley decides that the only thing for him to do is commit suicide. So he sets up a noose, ties the other end around a water pipe, and prepares to jump off a stool to his death. Except that this succeeds only in breaking the water pipe, spilling water into his flat and making his life even more of a mess, no pun intended.

Into all of this walks George Spiggott (Peter Cook). George seems to know a surprising amount about Stanley and his ancestry, more than Stanley knows about himself. The reason for that is George is in fact the Devil, and it's his job to know about people and use that information in an attempt to win people's souls. To that end, George offers Stanley seven wishes, after which George will be in eternal possession of Stanley's soul.

Stanley eventually decides to take George up on that offer. But of course, there's a catch, and here I don't mean the catch about George getting possession of Stanley's soul at the end of all this. Instead, every time Stanley makes a wish, George makes it come true. At least, only as far as Stanley specified things. Those parts of the wish Stanley failed to specify, well, George is going to interpret those in a way that makes Stanley dissatisfied. And when Stanley wants out of his wishes, he finds that George is constantly engaging in all sorts of mischief on the poor people of Earth.

Along the way, Stanley talks a lot with George on why anybody would want to become the devil if it's not as glamorous a life as you'd think, and why he acts the way he does, and George has some interesting -- and at times sensible answers. There are points that could actually be thought-provoking, although the movie is meant as a fairly light comedy in spite of the subject matter.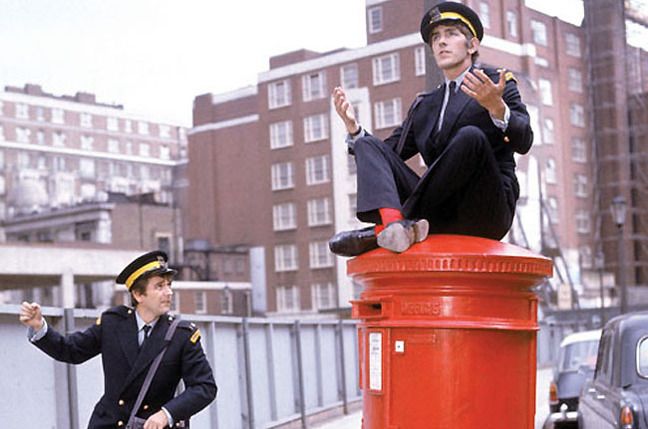 Peter Cook (r.) having a bit of fun with Dudley Moore explaining why he grew tired with God

In thinking about it more, I think I'd consider Bedazzled to be almost an alternate-universe version of Oh, God!. Where you have a charming George Burns wanting John Denver to let people know that, yes, God is still here; in Bedazzled you have a charming Peter Cook wanting to let at least one person know that yes, the Devil is still here. (The wishes seem detached from reality, and there's no indication that the other characters know what's going on in those wishes.) And indeed, both Cook and Moore are charming in their roles, to the point that you feel sympathetic for both of them even though Moore is on the verge of losing his soul. There are, however, a few points at which the movie feels it's running on a bit much. That criticism aside, Bedazzled is well worth a watch.

Note that Bedazzled was remade in 2000 and updated to have the Devil be played by a woman (Elizabeth Hurley), which I think not having seen the movie that it would add some unwanted sexual tension to the movie. Both versions did get a DVD release somewhere, which is something to watch out for if you're looking for an expensive used copy of the Cook/Moore version. The older one is, I think, out of print everywhere; the remake is not listed at the TCM Shop but seems available on streaming video for Amazon Prime members who can do the streaming thing.