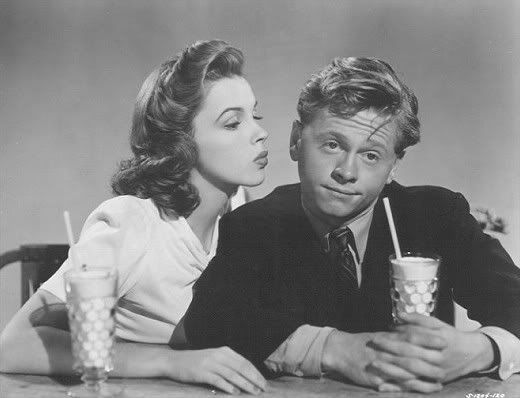 Judy Garland and Mickey Rooney in a promotional still; I think from Babes on Broadway


The death has been announced of actor Mickey Rooney, who died yesterday at the age of 93. Rooney started his career in vaudeville, became a child star at the end of the silent era, and then became a big juvenile star at MGM in the 1930s, where he would go on to be paired with Judy Garland a whole bunch of times, starting with 1938's Love Finds Andy Hardy. One of Rooney's most enduring juvenile roles at MGM might be opposite Spencer Tracy in Boys Town, pictured at left.

Rooney was nominated for an Academy Award four times, receiving a special juvenile award and a lifetime achievement award, but never a true competitive Oscar. Perhaps the best of those four roles was in The Human Comedy, in which Rooney plays a high school student working as a telegram delivery boy forced to become the man of the house thanks to World War II.


Rooney was lent out by MGM once, to Warner Bros. when they made A Midsummer Night's Dream in 1935 and cast the 14-year-old Rooney as Puck, who becharms everybody, including making James Cagney appear with an ass' head. Rooney's Puck is slightly irritating, but I think it's called for by the script, which mkes Rooney's performance quite entertaining. MGM realized they made a mistake letting WB have Rooney's success, and never lent him out again.


One other juvenile role from Mickey Rooney that I really enjoy is in Hide-Out, in which he plays the kid brother of Maureen O'Sullivan. Poor Mickey takes care of the rabbits, only for his mom to take one of the rabbits and turn it into dinner for Robert Montgomery, much to ROoney's chagrin! Rooney aside, the movie is still quite good.

TCM will be getting around to having a big Mickey Rooney programming tribute, although I didn't see anything on TCM.com that suggested when the tribute would be. This week has the 20 Fan Programmers in prime time, and the Film Festival is at the weekend. Next week has the actual 20th anniversary on the 14th, followed by a 48-hour salute to the 90th anniversary of MGM. And then the week following is the Star of the Month salute to John Wayne, which goes on almost non-stop from prime time on Monday.