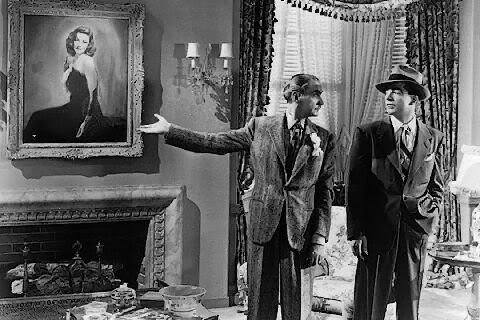 This week's TCM Essential is Laura, airing at 8:00 PM this evening. I believe it's a TCM premiere; at least, I have the monthly schedules going back to July of 2007 and a search of them didn't yield any other matches for Laura other than this month's showing. Gene Tierney stars as the beautiful model Laura, whose murder police detective Dana Andrews is brought in to investigate. Laura kicks off a night of movies starring both Tierney and Andrews, with three movies all of which I've blogged about before.

TCM showed Where the Sidewalk Ends back in 2010 when Gene Tierney was one of the stars in Summer Under the Stars; it gets another airing tonight at 9:45 PM.

The last of the three movies is, I think, also a TCM premiere: The Iron Curtain, at 11:30 PM. (Figuring out whether this one was a premiere was a bit more difficult because several movies have the phrase "Iron Curtain" as part of the plot synopsis.) I recommended it before, although didn't do a full-length post on it as I thought I had, for which I apologize.