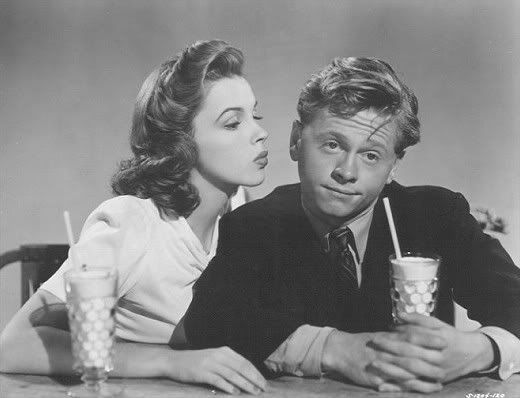 Mickey Rooney died last weekend, and with Boys Town and Men of Boys Town already on the TCM schedule for April 13, the powers that be decided to make tomorrow the day for the 24-hour programming tribute to Rooney. That salute has 13 movies:

Broadway to Hollywood (1933) at 6:00 AM;
The Devil Is a Sissy (1936) at 7:30 AM;
A Family Affair (1936) at 9:15 AM;
You're Only Young Once (1938) at 10:30 AM;
Captains Courageous (1937) at 12:00 PM;
The Adventures of Huckleberry Finn (1939) at 2:00 PM;
The Human Comedy (1943) at 3:45 PM;
Killer McCoy (1947) at 6:00 PM;
Boys Town (1938) at 8:00 PM;
Men of Boys Town (1941) at 10:00 PM;
National Velvet (1944) at midnight;
Babes on Broadway (1941) at 2:15 AM; and
A Midsummer Night's Dream (1935) at 4:30 PM.

It looks as though Rooney's Private Screenings interview with Robert Osborne isn't on the schedule, which is a bit of a shame. I suppose it would have been nice if we could have gotten stuff Rooney did as an all-grown-up actor in the 1950s, like Drive a Crooked Road, but it's possible they couldn't get the rights to some of the Columbia stuff at such short notice.