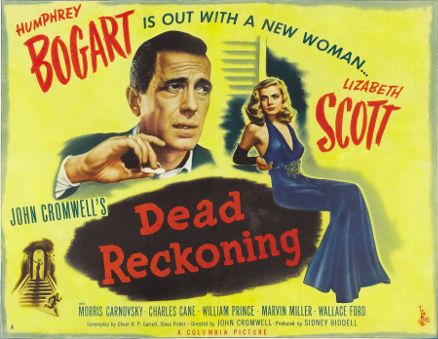 I've mentioned Dead Reckoning multiple times, most recently when Lizabeth Scott died a year and a half ago. It's on again tonight at midnight as part of Humphrey Bogart's day in Summer Under the Stars.

The plot, convoluted as it is, involves Bogart as Capt. Murdock. He's returning home from World War II with Sgt. Drake (William Prince), who was under his command. Drake was a hero in the war and is up for the Congressional Medal of Honor. But on the way to Washington DC, Drake gets off the train and goes missing. Murdock investigates, and that investigation takes him to Florida's Gulf coast, where he finds that Drake escaped town at the beginning of the war, and in fact wasn't even Drake at the time.

Drake, it seems, was involved with Coral, who was married at the time to another man. The husband wound up dead, Drake was accused of the murder, and beat the rap by taking the name Drake and enlisting in the war. You can see why he wouldn't want to be recognized for his heroism: everybody in his hometown would recognize him, and there's that murder charge hanging over his head.

Things get very complicated after this. Thankfully, it's not as bad as The Big Sleep, which I find to be a terribly overrated movie. Still, I found Dead Reckoning hard to follow, and the ending a bit of a mess. It's one that you should probably watch once if you haven't seen it before. The TCM Shop does list it as being available to purchase on DVD.