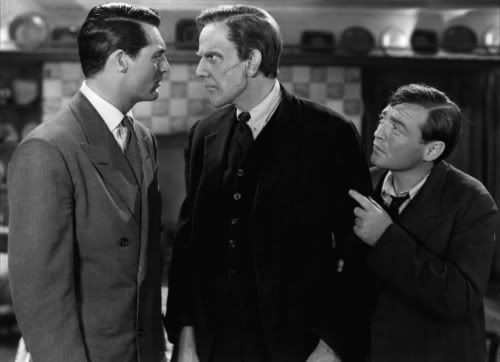 Raymond Massey (center) along with Cary Grant and Peter Lorre in Arsenic and Old Lace (1944)

Several famous old-time Hollywood stars have their birthday on August 30. Among them is Raymond Massey, who was born on this day in 1896.

Massey's film career started at the beginning of the sound era, but really took off in the second half of the 1930s with moives like Things to Come and the 1937 version of The Prisoner of Zenda. Massey worked steadily in movies through the 1950s, only slowing down his film career to take the Dr. Gillespie role in the TV version of Dr. Kildare.

Massey's movies are too numerous to mention. I'm not certain which of his roles is my favorite. I particularly enjoy Arsenic and Old Lace, but he was in some movies that might be even better except that he only had small roles. For example, he was the narrator for the American version of Michael Powell's A Canterbury Tale, and also has smaller roles in Powell's 49th Parallel (as the Canadian soldier going AWOL) and A Matter of Life and Death.