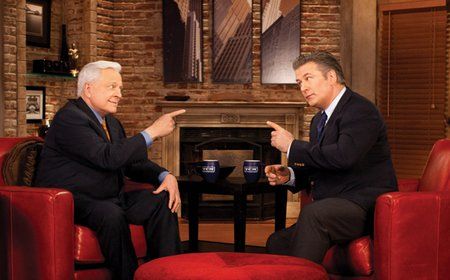 Robert Osborne (l.) and Alec Baldwin, probably arguing about the Marlon Brando version of Mutiny on the Bounty or something

The death has been announced of longtime TCM host Robert Osborne. He was 84. Osborne came on TCM from the channel's first day, bein an almost uninterrupted weeknight host until his first break in 2011, and then more frequent breaks thereafter. He was last seen on TCM in February 2016, I believe.

Of course, Robert Osborne was a lot more than just the TCM host. He actually started work as an actor, appearing in commercials, and, among other things, the pilot episode of The Beverly Hillbillies. He was also a long-time columnist for The Hollywood Reporter and a film historian, writing books about the Oscars.

Obviously, this means that Ben Mankiewicz is going to be named the official host of TCM at some point assuming TCM weren't planning on getting rid of him. He's only about 50, so he would have the energy to do intros for seven nights of movies a week. When Osborne was doing it, he was going from New York to Atlanta for about one week a month to tape all the intros and outros. And I'll assume that TCM's Spotlights will mean that Ben won't be the host seven nights a week most months. I don't know if Tiffany Vazquez' profile on air will increase, although if they're satisfied with what she's doing on Saturday afternoons, having her host Sunday afternoons and leaving Ben free for just prime time would be a reasonable first expansion.

TCM already has a subdomain at the TCM site to remember Osborne; I don't know if there's been anything on the channel yet.