Now that we're back into the first full week of a new month, it's time for another Star of the Month on TCM. This month it's Welsh-born actor and two-time husband of Elizabeth Taylor, Richard Burton. Normally, TCM has its Star of the Month on one night a week every week for a month. This time around, however, they're doing something different in that Richard Burton's movies will be on every night in prime time this week. If you've seen any TCM in the past few weeks, you'll have seen the promos for March Malice, this month's TCM Spotlight which will be on every night from March 20-25.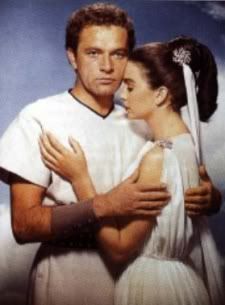 I think the only picture of Burton I've posted here on the blog is one with Jean Simmons that's a publicity still from The Robe, which will be on at 3:15 AM overnight tonight or early tomorrow morning depending on your point of view. Burton's Hollywood career started off at Fox, so we get what I think are a couple of TCM premieres this evening. Those would be Prince of Players at 9:45 PM, and Sea Wife at 1:30 AM. I know Sea Wife has aired on FXM Retro in a widescreen print, but I don't think Prince of Players did. So I'm not certain what print will be getting for Prince of Players.

My Cousin Rachel, kicking things off at 8:00 PM, definitely isn't a TCM premiere, since it showed up on TCM last July, I think, when Olivia de Havilland was Star of the Month on her centenary. I wasn't a particular fan of the movie on having watched it; I found it a tedious period melodrama with all of the characters having questionable motivations. But watch and judge for yourself.

As for Elizabeth Taylor, it looks as though the movies she and Richard Burton made together will be coming up on Wednesday and Thursday night.