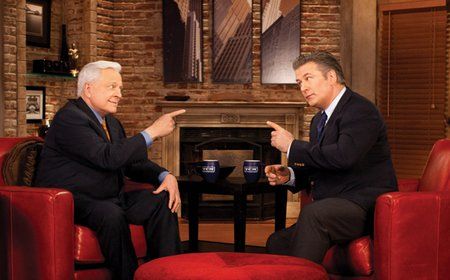 As you probably know, long-time TCM host Robert Osborne died last week aged 84. TCM is going to be doing its programming tribute to him this weekend, with a full 48 hours of Osborne related stuff, from 6:00 AM tomorrow to 6:00 AM Monday. For better or worse, there's a lot of stuff that's getting repeated.

If you want to see the Private Screenings interview where Osborne was the interviewee, and Alec Baldwin was asking the questions, you're in luck. It's kicking off the tribute tomorrow morning at 6:00 AM, and will be on again at 8:00 PM Saturday, among other times. There's also the 20th anniversary salute to him, done I think at the TCM Film Festival in 2014 and hosted by Alex Trebek; that one will be on at 9:00 AM tomorrow and again at 4:15 PM.

Having said that, IMDb claims that there were 28 Private Screenings done, although they don't give an episode guide. Wikipedia claims 27, although they don't mention the one in which Osborne was the interviewee. Looking through the weekend schedule, however, there are only six (including the one with Osborne as the subject) getting shown:

Norman Jewison
Liza Minnelli
Debbie Reynolds
Betty Hutton
Ernest Borgnine

There are so many more TCM could have dug out, assuming movie rights aren't an issue (and I don't see why they should be when it comes to re-running these). I wouldn't mind seeing the one with Mickey Rooney, or the one with Charlton Heston, again. But nope, just the five stars and Osborne.

TCM is showing most if not all of the program-length interviews Osborne did at the TCM Film Festival throughout the weekend, however, which at least is a bit of solace.