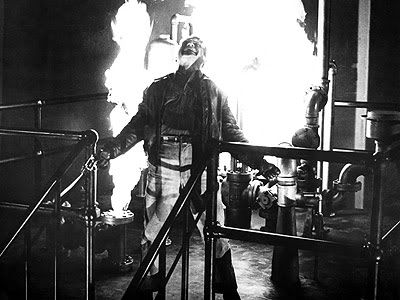 TCM is running another original documentary in its irregular series A Night at the Movies, which look at various genres. I think they've done epics, Christmas movies, and a couple of others before, but tonight, the subject is crime movies. The documentary runs at 8:00 PM, with a second airing at 11:00 PM for the benefit of those on the west coast, as is often the case for these documentaries. My memory of these A Night at the Movies programs is that they're more of a survey show, not providing any particularly new information that would be likely to be unknown by anybody who spends a lot of time watching TCM; the programs, however, are inoffensive enough and probably a reasonably good primer for people who don't know much about the movies.

TCM is also showing several well-known crime movies as part of the prime time lineup, naturally. (Well, of course they're airing crime movies; the "naturally" is for the fact that the ones they've picked are more well-known. I've briefly mentioned Bullitt a couple of times; that's the movie at 9:00 PM in between the two airings of the documentary. Then, at midnight, you can see The Naked City. Pictured above is James Cagney in White Heat, which is on 2:00 AM. The 1970s version of The Taking of Pelham One, Two, Three follows at 4:00 AM, and the night concludes with The Thomas Crown Affair at 5:45 AM.

All of the movies in tonight's TCM lineup (not including the documentary) are available on DVD from the TCM Shop.