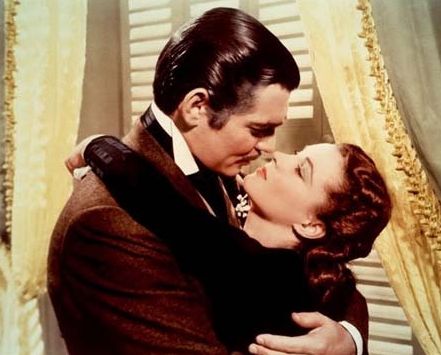 Vivien Leigh with Clark Gable in Gone With the Wind> (1939)

Today being the 100th anniversary of the birth of Vivien Leigh, it's not surprising that TCM is spending 24 hours, more or less, showing her films. (Unlike most 24-hour tributes, it's starting mid-morning because the Story of Film selections run long and going into mid-morning Wednesday.) Leigh of course won two Best Actress Oscars, and both of those movies show up in prime time. The first Oscar was for Gone With the Wind, which is on at 10:15 PM, so at a good time for folks out on the west coast. Not that I was going to be watching it anyway. It's a spectacle, but there are other movies I considerably prefer. And in general, most movies that run over two and a half hours could do with some paring down. Anyhow, the second Oscar was for A Streetcar Named Desire, which starts prime time at 8:00 PM. It's another movie I find a bit of a slog, because Tennessee Williams can be over the top, and I am not the biggest fan of Marlon Brando.

A couple of the movies airing in the next 24 hours are ones I've blogged about before, but which aren't available for purchase from the TCM Shop:

Fire Over England, at 4:00 PM, sees Leigh as a lady-in-waiting to English Queen Elizabeth I (Flora Robson), although the actual star of the movie is Leigh's future husband Laurence Olivier.

I mentioned the wonderful comedy Storm in a Tecaup back in August; that's airing overnight at 2:15 AM and has Leigh paired with Rex Harrison. Leigh plays the daughter of the provost of a Scottish village; Harrison a journalist from London who writes an exposé on the Provost.

Dark Journey (5:45 AM) is one that I'm pretty certain I saw back when Vivien Leigh was Star of the Month on TCM. It's a World War I-set movie that has Leigh and Conrad Veidt getting involved with spying in neutral Stockholm. It's one that probably deserves another viewing.

As for movies I've blogged about before that are on DVD at the TCM Shop, Leigh is in another costume drama as That Hamilton Woman, at 5:45 PM. Leigh's 24-hour salute concludes with Caesar and Cleopatra, tomorrow morning at 7:15 AM.