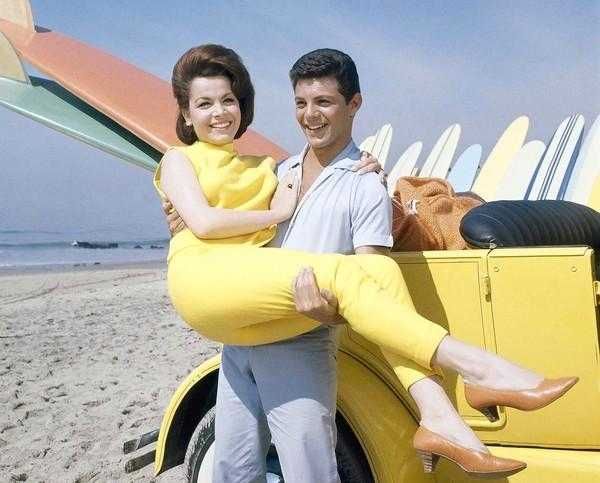 Frankie Avalon holding Annette Funicello

Singer-turned-actor Frankie Avalon turns 75 years old today. Although Avalon is nowadays best remembered for those beach movies he mae with Annette Funicello, that's not how he started off in Hollywood, and the beach movie phase really only lasted a couple of years for him. Avalon was brought into the cast of John Wayne's The Alamo back in 1960, presumably to bring in teen viewers the way Fabian had, or Elvis Presley before them. Other movies that were intended to be serious followed, such as Voyage to the Bottom of the Sea and Panic in Year Zero!, before the first of the beach movies in 1963.

Like the other teen idols of the late 50s, Avalon didn't have a terribly successful Hollywood career, if you consider success to be good roles and staying power. Avalon's career more or less petered out after Skidoo in 1968, until the nostalgia craze came around in the mid-1970s, allowing him to more or less play himself in a scene in Grease, and then reunite with Annette for a couple of TV movies until Annette's multiple sclerosis cut her career short.

If you like authentic 60s movies instead of the recent-day stuff that looks back at the 60s, then one or another of the beach movies is worth a watch, although I wouldn't watch them all together, the way TCM sometimes programs them.