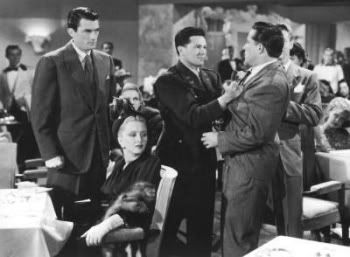 Tonight is the fourth of five nights of this year's "Projected Image" series on TCM, looking at the Jewish experience on film. The night kicks off at 8:00 PM with The House of Rothschild, starring George Arliss as the patriarch of the early 19th century Jewish banking family who helped finance the fight against Napoleon. George Arliss makes any movie worth watching, and this one is no exception. When the movie was made, the finale was in two-strip Technicolor, although I think the last time I saw the movie on TCM, the finale was in black-and-white.

Speaking of Arliss, it's too bad the series couldn't have found room for Disraeli., Also on the missing in action front, TCM apparently didn't think to use the short Sons of Liberty, about Haym Solomon, tonight. It would have fit perfectly with The House of Rothschild.

Second up, at 10:00 PM, is Gentleman's Agreement, which I've mentioned quite a few times in passing, notably when some of the cast members have died. I apparently haven't done a full length post Gregory Peck plays a writer who passes himself and his family off as Jewish for a magazine story he's writing, and finds that the conseqences are at times pretty steep. I wonder if Blogger's search function is acting up, or if it just doesn't like apostrophes, because the first time I did a search on the title this morning, it only yielded one post.

Crossfire follows at 12:15 AM. TCM claims that this one isn't available from the TCM Shop, although it was certainly available on Amazon when I blogged about it back in March 2009.

I don't know much about the more recent (2001) movie Focus, which comes on at 2:00 AM, although the one-sentence synopsis sounds interesting.

Eric Goldman is only presenting four movies each week, although one some of the nights there's enough time left for a fifth movie before the next morning's programming block begins. This is one of those nights, so TCM threw in The Life of Émile Zola at 4:00 AM.