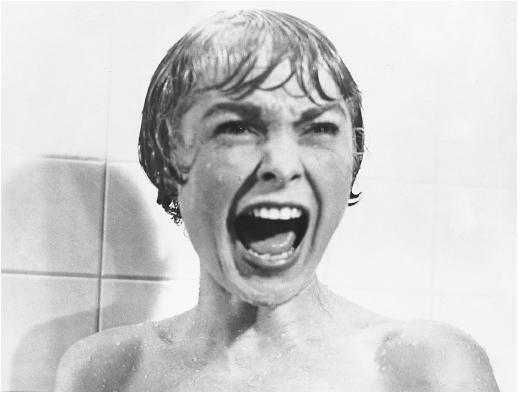 So we finally get to Psycho on TCM, tnoight at 8:00 PM. I presume most of you have seen the movie before, but I have to say that even though I've seen it several times, I still find the scene just before then end when Marion Crane's sister (Vera Miles) goes down to the fruit cellar and discovers.... Well, you know what she discovers if you've seen the movie, and if you don't I'm not going to spoil it for you. I really wanted to mention Psycho because it's part of a mini-block of Alfred Hitchcock on TCM today. We start off at 4:30 PM with Marnie starring Tippi Hedren as a kleptomaniac with other mental problems too, and Sean Connery as the man who falls in love with her while trying to figure out what's wrong with her. That will be followed at 6:45 PM by Dick Cavet's interview with Alfred Hitchcock, which I mentioned when it ran about a year ago. I really like the Cavett interviews, which are reminiscent of the Private Screenings interviews, but mostly with people who died before Robert Osborne could interview them.

Following Psycho, there will be a pair of movies that are apparently currently out of print on DVD. Amazone lists a couple of options for Touch of Evil (10:00 PM), with one being "Instant video" and the other a "limited edition" DVD. For those who don't know the story, Charlton Heston plays a Mexican narctoics officer married to Star of the Month Janet Leigh who gets involved in a cross-border murder investigation when the signs start pointing to American cop Orson Welles. I'm not quite as big a Welles fan as some people, so while a lot of reviewers find Touch of Evil to be a masterpiece and dammit why did the studio edit it, I find it (and the print I saw on TCM claimed to be the most complete version available) to be a bit muddled. (At least they're not showing Mr. Arkadin.)

Then at midnight you can watch Act of Violence, which I blogged about back in September, 2010. This one has Leigh married to Van Heflin, who plays a World War II veteran with a secret in his war record who is being stalked for blackmail by Robert Ryan, who knows that secret. Ryan is always good at playing the bad guys, while a surprising performance from Mary Astor and direction from Fred Zinnemann help make this movie an underappreciated one that really deserves more attention despite a few flaws. Act of Violence showed up on a few box sets, but I don't know if those are in print.