The Unsinkable Molly Brown (1964) kicks off prime time at 8:00 PM

Debbie Reynolds died at the end of December aged 84. TCM's programming salute runs on Friday, January 27, taking a full 24-hour programming day starting at 6:00 AM to show 12 of Reynolds' movies, as well as two shorts:

Reynolds tries to make marriage to Navy officer Glenn Ford work in It Started With a Kiss at 6:00 AM;
Reynolds takes in a foundling in Bundle of Joy at 7:45 AM;
Reynolds is one of many stars in How the West Was Won at 9:30 AM;
Reynolds falls in love with confirmed bachelor Frank Sinatra in The Tender Trap at 12:30 PM;
Reynolds appears in the lower-tier MGM musical Hit the Deck at 2:30 PM,
followed by another lower-tier musical I Love Melvin at 4:30 PM;
Reynolds sings for Jean Hagen in Singin' in the Rain at 6:00 PM;
Reynolds escapes the Titanic in The Unsinkable Molly Brown at 8:00 PM;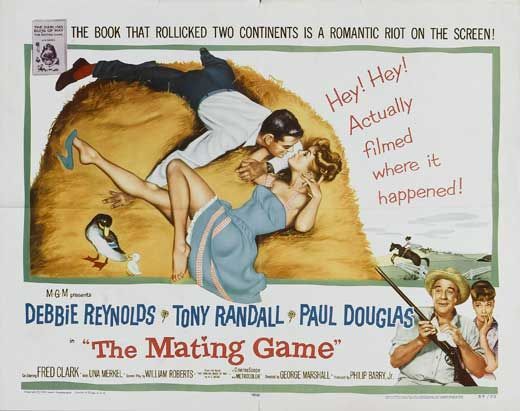 Reynolds and taxman Tony Randall fall in love in The Mating Game at 10:30 PM;
Reynolds would, unlike mother Bette Davis, prefer a simple wedding in The Catered Affair at 12:30 AM;
Reynolds has an unlikely #1 hit as The Singing Nun at 2:15 AM; and
Reynolds and James Garner visit Paris in How Sweet It Is at 4:00 AM.

As for the two shorts, there's one about a dress she wore in The Unsinkable Molly Brown following Singin' in the Rain, and one in which she makes an appeal for the Jimmy Fund at the end of the night.