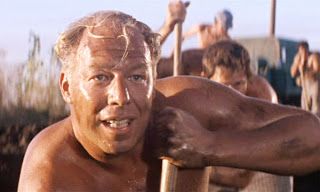 George Kennedy, who won a Best Supporting Actor for Cool Hand Luke

George Kennedy, whose long career included a lot of tough guy roles early on as well as comedy later in his career, has died at the age of 91. Kennedy won a Best Supporting Actor for his role opposite Paul Newman in Cool Hand Luke, pictred above. Kennedy has a wonderful "Word of Mouth" piece that shows up on TCM from time to time in which he mentions the making of one particular scene where he and the other prisoners have the hots for a young woman, helpfully informing us that the prisoners and the young woman doing her thing were actually shot in two completely separate sequences, so all the actors had to show themselves getting aroused without the young woman around. That's acting.


Other roles for Kennedy in the 1960s included one as a cop who makes life difficult for Kirk Douglas in Lonely Are the Brave, as well as a farmhand with a mean streak in Strait-Jacket, pictured at left. Strait-Jacket is one of those movies which isn't all that good, but is enormously entertaining, including Kennedy's performance. I suppose I should also mention The Dirty Dozen, although it's been years since I've seen that one.




Who can't help but love Airport? The first of the great all-star disaster movies of the 1970s, George Kennedy is one of those stars, playing the man whose job it is to keep the runways clear by getting any plane that should get stuck in the snow out of the snow banks, something that puts him at odds with Burt Lancaster.




And then later in his career, Kennedy played Leslie Nielsen's boss in the Naked Gun series of films; that's Kennedy behind Nielsen in the photo above.

As best as I can tell, TCM hasn't announced whether there's going to be any programming change to honor Kennedy. I haven't been watching enough to see whether they've even aired a "TCM Remembers" piece yet.