Debbie Reynolds (r.) with Bette Davis in The Catered Affair

I mentioned somewhere else on Tuesday after Carrie Fisher died that her mother, actress Debbie Reynolds, was still alive, and that it's a terrible thing to have to bury one's own child. Well, Debbie Reynolds suffered a stroke yesterday, and died in hospital aged 84.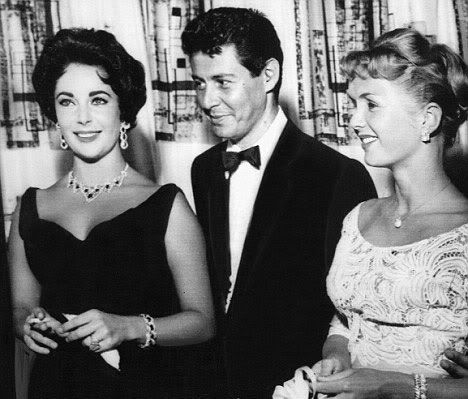 Reynolds (r.) with Elizabeth Taylor and Debbie Fisher


Reynolds is probably best known for her role in Singin' in the Rain, although I didn't have any good pictures of her from that one that I'd used on the blog, which is why I led with a photo of her and Bette Davis. I was hoping for a better photo of Reynolds jumping out of that cake, but the one at left was the best I could find on such short notice; I wasn't expecting Reynolds to die so suddenly.



Reynolds and Harve Presnell in The Unsinkable Molly Brown

Reynolds' Oscar nomination came quite a few years later, for The Unsinkable Molly Brown. In between, she made any number of entertaining movies, a whole bunch of which I've blogged about in the past. As far as I know, TCM hasn't announced any programming salute for Reynolds yet.