TCM is spending this evening (before TCM Underground, at least), showing four pictures directed by James Whale. Whale is best remembered for directing the 1931 Boris Karloff version of Frankenstein, which is on at 11:15 PM. What might be more interesting, however, is that three of the four movies showing (other than the first, The Great Garrick, at 8:00 PM) were made at Universal.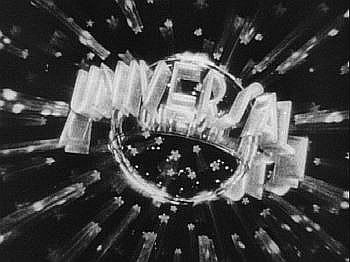 As far as I can tell, for quite a long time, TCM hasn't been showing very many films from Universal, and certainly not from the days before Universal became Universal-International in the late 1940s. (In fact, I already mentioned this back in February, 2008.) Part of it might be down to the quality of Universal's movies from that era. Universal also controls the rights to the Paramount talkies made before 1950, and the Paramount films from the 1930s and 1940s have begun to spring up on TCM in the past few years. Paramount, for the most part, had a reputation for making more prestigious films, with Universal being further down the pecking order of the studio system, much like Columbia in the days before It Happened One Night.

It will be nice if TCM can continue to get the rights to show more films made at Universal Studios, although I have a feeling it's going to start with Universal's best known product from the 1930s. In addition of Frankenstein, TCM is also showing The Invisible Man from Universal at 12:30 AM. The more interesting selection is One More River at 9:45 PM, a movie I've never heard of. For the time being, I'd expect more of the Universal horror product, such as The Black Cat which aired earlier this month.