Sunday, May 11, is the second Sunday in May, which of course means Mothers' Day, a day on which those of us who have mothers still living should call them up or make dinner for them or something. I distinctly recall as "Have you written your mother"-type placard showing up in A Place in the Sun in the scene when Montgomery Clift is calling his own mother, who runs the mission for the down-and-out in whatever town it is that he came from and is trying to escape. But that's not the focus of my post today. I'm bringing up Mothers' Day a day early because TCM's schedulind really deamnds talking about the Mothers' Day films before the day itself.

Indeed, you could say there's a film worthy of Mothers' Day kicking things off tonight with Stella Dallas, which is this week's TCM Essential at 8:00 PM. Barbara Stanwyck plays Stell, who comes from decidedly working-class background and eventually has to make the difficult decision to back out of her daughter's own life because unrefined people such as her will be a problem with the daughter's attempts to rise in society. TCM is running this tonight as part of half a night of Anne Shirley movies; it's Shirley who plays the daughter.

Mothers' Day itself kicks off tomorrow morning at 6:00 AM with Lady For a Day, which I blogged about back in April, 2008. In this excellent film, May Robson plays the mother who, like Stella Dallas, feels she's going to be a drag on her daughter, but for a different reason: she's lied about her situtation to her daughter, who somehow wound up in Spain and is set to marry a nobleman; in fact, she's a destitute old lady, reduced to selling apples. It's up to gangster Warren William to make the illusion of wealth a reality, at least for a day.

I wasn't certain if I had blogged about The Catered Affair before; in fact, I did back in January 2013. It follows Lady For a Day at 7:45 AM tomorrow morning. Bette Davis plays the mother to Debbie Reynolds, who is engaged to be married. Daughter wants a simple wedding and not put anybody out; Mom wants a big deal even if it's going to take all the money Dad (Ernest Borgnine) has saved up for the taxicab he's wanted to buy.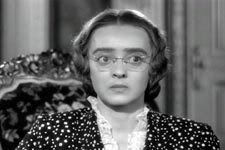 Now, Voyager isn't really a movie I would have thought of for Mothers' Day, since the mother is a mean old thing who won't let youngest daughter Bette Davis live the life she wanted. But, you can catch it at 9:30 AM tomorrow, following The Catered Affair. It's the sort of movie I watch for Davis' nervous breakdown scene early in the movie; after that, it descends into chick flick territory. But Bette Davis was always good for a blow-up.