The Stratton Story (1949), on tonight's lineup at 10:15 PM

TCM is finally back to having a tradition Star of the Month, with one night a week every week for a month, aftre the John Wayne marathon in April, and as late as you can start a Star of the Month salute. TCM has selected June Allyson, and will be showing her movies during prime time on Wednesdays, continuing into the early hours of Thursday. Tonight's schedule is as follows:

The Glenn Miller Story at 8:00 PM, in which Allyson plays the wife of the famed swing bandleader (played by James Stewart);
The Stratton Story at 10:15 PM, in which ALlyson plays the wife of one-legged baseball player Monty Stratton (James Stewart again);
The Secret Heart at midnight, which has Allyson as a young woman trying to deal with the loss of her mother;
The Gene Kelly version of The Three Musketeers at 2:00 AM;
Boxing/love triangle movie Right Cross at 4:15 AM;
The Sailor Takes a Wife at 5:45 AM, with Allyson as wife to sailor Robert Walker;
Girl Crazy at 7:30 AM Thursday, which has Allyson in a bit part dancing with Mickey Rooney early in the movie; and
Words and Music at 9:15 AM Thursday, a biopic of Richard Rodgers and Lorenz Hart which overlooks some key facts (Hart's homosexuality).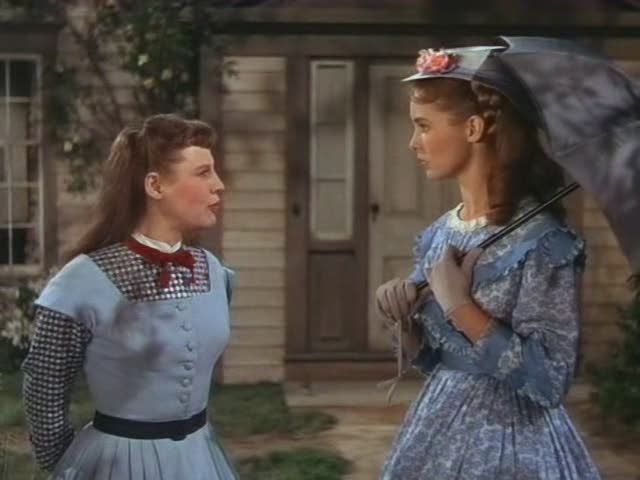 Little Women (1948) shows up next week, in case you're wondering, but here's a gratuitous photo from that movie