So I wrote just two days ago how the first half of the final in the Jeopardy! 30th anniversary tournament has a movie category followed by an Oscars category for Final Jeopardy. Who knew that in the second day of the final, they were going to have a category on Oscar-winning songs? And no, I didn't know all five -- I'm not as good on recent movies as I probably should be.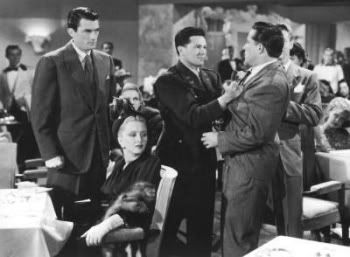 TCM is showing Gentleman's Agreement tonight at 8:00 PM as part of a two-film salute to Elia Kazan's socially conscious pictures at Fox under the production of Darryl F. Zanuck; the other one is Pinky at 10:15 PM. I've mentioned Gentleman's Agreement a couple of times, although it looks as though none of them are actually full-length posts on the movie. Celeste Holm won an Oscar in an OK part; John Garfield is excellent as always; Gregory Peck is pretty good. I think this is a TCM premiere for Gentleman's Agreement.

For those who like the Crime Does Not Pay shorts that MGM did in the 1930s and 1940s, TCM is showing another one overnight: Money to Loan, a little after 3:50 AM, or just after My Life As a Dog (2:00 AM, 101 minutes). I don't know that I've seen this short before, although as you can guess the short deals shady loan providers.