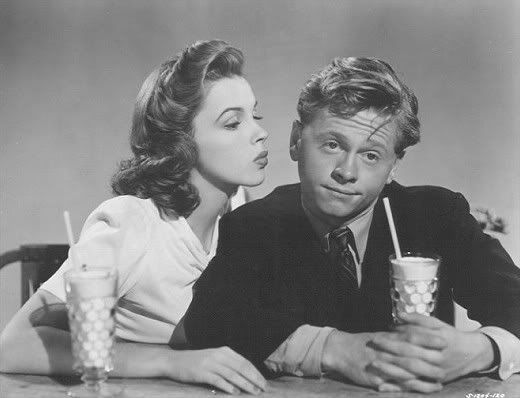 Judy Garland and Mickey Rooney in, I think, Babes on Broadway (April 9, 3:00 AM)

We're into a new month already, as I briefly mentioned yesterday. This means, in addition to some movies back on FXM Retro, that we get a new Star of the Month on TCM. This time, it's MGM star Judy Garland, and her movies will be airing on each of the five Fridays this month.

Garland having worked at MGM for close to 15 years, TCM should have had no problem getting most of the movies they would have wanted to show. Or, at least, the movies she made before leaving MGM in about 1950. One later movie that doesn't seem to be on the TCM schedule this month is Garland's final film, I Could Go on Singing. Even The Wizard of Oz, which used to show up fairly rarely on the channel, can be seen next Friday at 8:00 PM.

Tonight starts off with a decided supporting role, in Pigskin Parade at 8:00 PM, one of those college football movies that seem to have been so popular in the 1930s. But just a year or two after making that one Judy was already a pretty big juvenile star, as can be seen by her high billing in the following film, Listen, Darling at 9:45 PM.