Gene Hackman next to Warren Beatty in Bonnie and Clyde, tonight at 8:00 PM

Now that we're in a new month, we start to get new features on TCM. Among them is a new Star of the Month, which this time is Gene Hackman. I posted several photos from his movies in a post back in 2012 because I had nothing better to do. But it turns out that some of those movies aren't airing this month. Or, at least, a search of the TCM monthly schedule didn't bring up any matches. Bonnie and Clyde is not one of those, kicking the salute off at 8:00 PM tonight. It's also going to be showing up at the end of the month when TCM does its programming salute to the late Gene Wilder. For those who haven't seen the movie, Wilder plays a man out for a drive who gets carjacked by Clyde and his gang.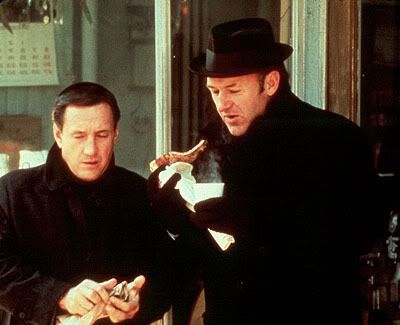 The French Connection shows up at 10:00 PM September 16. Hackman plays New York police detective Popeye Doyle, who together with his partner (Roy Scheider) investigate a planned importation of heroin.

Some of Hackman's better-known pictures, such as Hoosiers and The Poseidon Adventure, are not on the schedule, presumably because TCM couldn't get the rights this time around. I'm less surprised that they couldn't get the rights to Superman: The Movie, in which Hackman plays Lex Luthor. On the other hand, there are going to be some movies I haven't seen before.